The Delaware Indians were known as the "Lenni Lenape Indians" and lived in Delaware, New Jersey, New York and Pennsylvania. The Delaware River flowed through each of these states and through their land. They were divided into three groups: Munsee, Unalachtigo and Unami. Each of these three major groups spoke a different dialect of the Algonquian language, known as Lenni. Lenape meant "genuine people". "There may have been around 9,000 to 12,000 Delawares in the United States prior to the arrival of the Europeans," although some studies suggest that this amount may have been double. At times, they were divided into as many as 20 separate tribes. The Delaware had a network of villages, "each ringed with sovereign hunting territories." Their villages, therefore, were located near along rivers and streams, and of course the Delaware river.
In 1770, the Delaware tribe got permission from two tribes, Miami and Piankishaw, to occupy the land between the Ohio and White river south, in Indiana. Previously, the Delaware tribe had six villages on this stretch of land. There are several chiefs and leaders in Delaware that contributed greatly to life among Native Americans. Buckongahelas, for example, was a chief during the Revolutionary War. His father, Wewandochwalend, was a chief of the Delaware band of Indians in Ohio. Buckongahelas was known to be an honorable man and fighter, and was present during the signing of the Treaty of 1785 was signed at Fort Macintosh in Beaver, Pennsylvania. He also signed the treaty of Greenville, Ohio on August 3, 1795. In addition to Greenville's treaty, Buck also signed two more treaties: Fort Wayne, Indiana on June 7, 1803 and Vincennes, Indiana on August 18, 1804. Although these dates occur after our time period of the 1780's, it is clear that Buckongahelas certainly lived up to his "honorable" potential and is remembered as a great Delaware Indian chief.
Another important Delaware Indian leader was Hopocan, and was a war leader for the Wolf division of the Delaware tribe. To the white community, Hopocan became known as "Captain Pipe", since Hopocan literally meant "tobacco pipe". Hopocan had a fairly good reputation as a talented orator, and had gained a lot of wisdom and knowledge through his years as a war leader. Hopocan fought courageously against the British during the French and Indian War. On September 17, 1778, Hopocan signed the treaty of Fort Pitt in Pennsylvania. This treaty was significant because it marked the first treaty between the United States and the Native Americans. Hopcan also signed the treaties of Fort Macintosh and Fort Harmar, both in Ohio.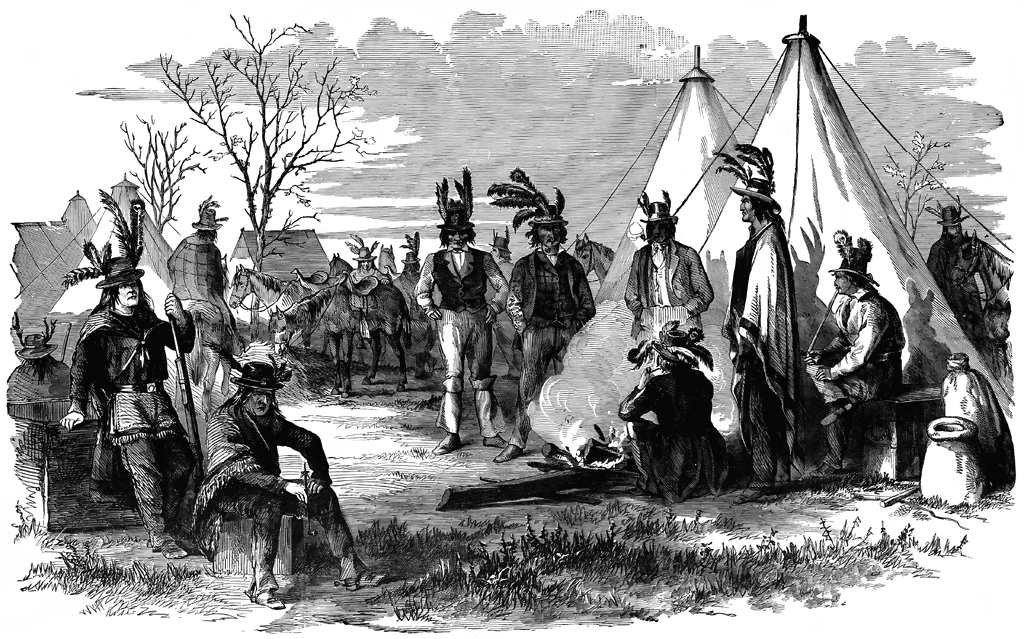 Above is an image of a tribe of Delaware Indians. Although this portrayed Indians a bit later than our time period, it provides an accurate look into what life was like for this tribe.
In terms of Native Americans who served as soldiers, there was one Native American unit that appeared among the military records of the soldiers who served in the Revolutionary War. The "Pay Roll of the Delaware Indians in service of the United States, Commencing June 15th 1780 & ending October 31, 1781" lists 12 soldiers: 4 captains and 8 privates. The names, except for Captain John Montour, the company commander, appear to be in the Delaware language. For example, Captain Mawanapano is the second soldier listed after Captain Montour.
Sources: http://www.accessgenealogy.com/native/tribes/delaware/delawarechiefs.htm
http://www.archives.gov/publications/prologue/2007/winter/indians-military.html
http://www.manataka.org/images/Lenni_Lenape-Eastern_Delaware.jpg