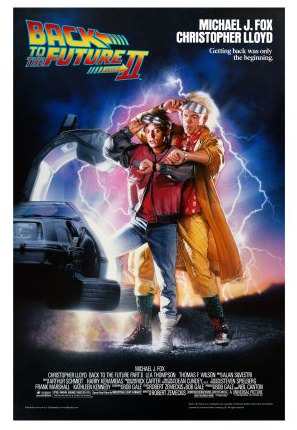 Prepare yourselves, guys! We are less than three short years away from the date on which the Doc and Marty McFly arrived in the future – October 21st, 2015. If Back to the Future II is accurate, we should expect to have flying cars, hover-boards, and interactive holograms any day now! Not to mention self-tying shoes, self-drying clothing, dog-walking robots, etc. The list goes on and on…
In fact, this is one of the problems I had with this rather over-the-top sequel. While the futuristic inventions shown in the movie are pretty neat, I felt that the amount of time spent on showering the audience with all these new inventions (roughly the first 30 minutes of the film) was excessive. Don't get me wrong – it is certainly comforting to know that three years from now, I'll have a robot hovering over my table waiting to feed me grapes. But I would have preferred to do without this knowledge, and to get to the plot of the film more quickly.
Once we do get into the plot, we see that it is much more convoluted than that of the first film. Baddie Biff Tannen returns in Part II to steal the DeLorean, which he uses to travel to the past (1955). In doing so, his actions disrupt the "space-time continuum," leading to an alternate, dystopian present (1985) which Doc and Marty must fix at all costs. This requires them to return to 1955, which Marty has already traveled to in the first film, and so he has the added pressure of not running into his other self while on his quest to right Biff's wrongs. Confusing, right? I thought it was very much so! But then, this is a sequel, and filmmakers usually go to all costs to try and outdo their first movie.
So, is this sequel superior to the original? Most definitely not. While the filmmakers' attention to detail in the first flick was flawless – not a detail too many, and every detail had its place – in Part II, I felt like there was an overload of useless information. In addition, while the first Back to the Future is original and fresh, I felt like the sequel was not. While I had a good laugh at the sheer absurdity of some of the situations that the characters find themselves in, I don't think I'll be watching this film again anytime soon. Seriously, if you can only watch one, WATCH THE FIRST ONE! All you'll get out of this film is an intense desire to own a kick-ass hover-board.