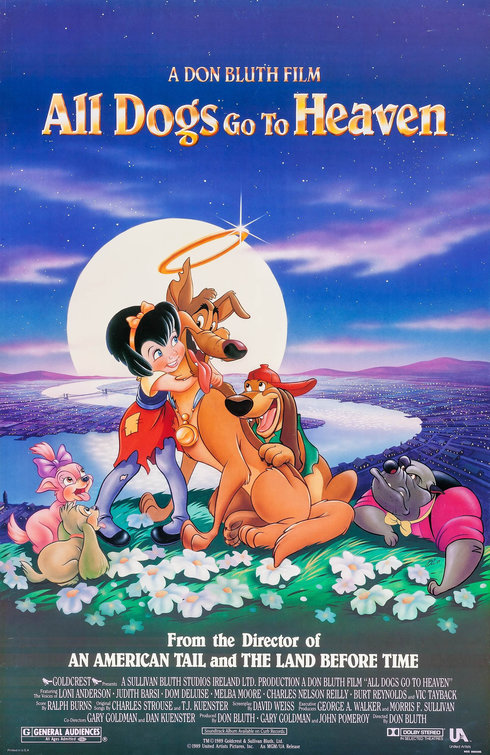 Dogs! Everyone loves them, or almost everyone, at least, so it makes sense that Don Bluth would make them the subject of yet another of his animated films. These cute, furry animals are all noble and loyal and lovable, right? WRONG! If you're looking for a movie that revolves around innocent house-pets living innocent house-pet lives, this isn't the movie for you.
This movie follows the events that unfold after a gangster Pit Bull/Bulldog mix named Carface (play on the name Scarface, of course) gets his partner, Charlie B. Barkin (a German Shepherd and the main character of the film) thrown in the pound so that he won't have to share the profits of their joint-venture casino. When Charlie escapes, Carface takes immediate action and has his drunk, unsuspecting partner run over with a car. Charlie dies, goes to Heaven, and then returns to earth to get revenge on Carface – all within the first twenty minutes of the film! As if this weren't enough, we have orphan Anne-Marie who is pining away for loving parents, thrown into the mix… Remind me again how this is a children's movie?
I can still remember watching this as a child. I was maybe six or seven, and most of this movie went completely over my head. I didn't understand the dark references to 'Death row' and to the gambling that was going on at the rat races. All I knew was that I wanted a dog like Charlie – despite the fact that he steals from people and uses an orphan girl to get an unfair edge at races – and that I was thoroughly scared ****less with his imagined trip to Hell.
Now, as an older viewer, I find that the thing that sets Bluth's movies apart from Disney movies is their overall dark nature. In two of his other movies of the 80s – The Land Before Time (88) and An American Tail (86) – which are also childhood favorites of mine, he deals with other heavy issues, such as the death of a parent and the plight of immigrants. To go along with these somber plots, Bluth employs a somber color-palette. In All Dogs Go to Heaven, this actually works exceedingly well, given that many of the settings are foggy piers, rust-filled junkyards, and even an abandoned church – I cannot imagine this movie having the happy-go-lucky hues of a Disney flick.
As with any children's movie, however, there is always some positive message to derive from it. In All Dogs go to Heaven, we see that Charlie does eventually redeem himself, and we learn a little something about loyalty, friendship, and change along the way.